Gatherings
Your place to explore the life, love, family & friends found in Jesus.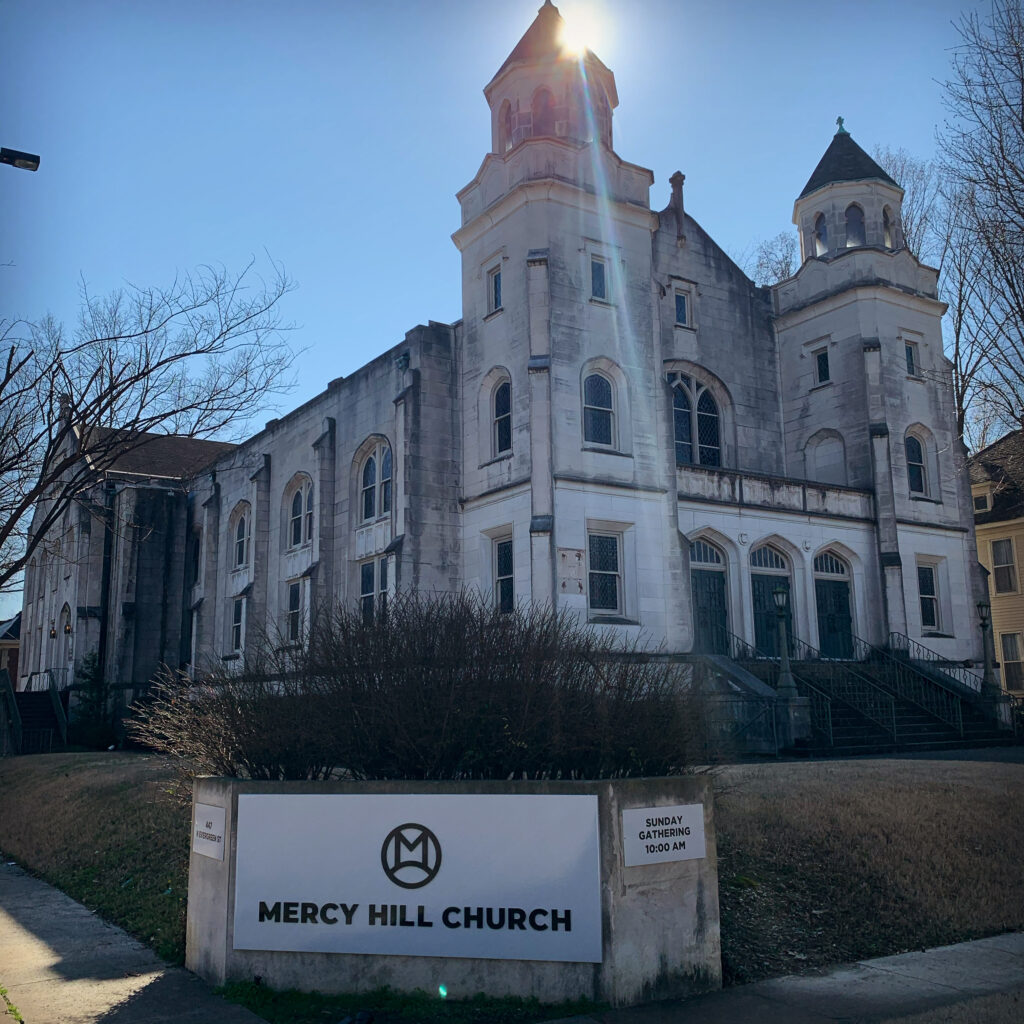 Sunday Gathering
Celebrate Jesus with Family & Friends
Mercy Hill has a large family gathering every Sunday, 10 AM at 447 N. Evergreen St. Come experience the life, love, family and friendship found in Jesus. Our church family uses this time to sing, listen, interact, share and give. Together we meet with God our Father and celebrate all that Jesus has done for us. We are sent out, empowered by the Spirit, to share the gospel (good news) of Jesus with our city in our Missional Community families throughout the week.
OR tune into YouTube, on Sunday at 10 AM to join us from home.
Click here for more on What to Expect at a gathering.
Time & Location
Sundays: 10 am
447 N. Evergreen St. Memphis, TN 38112
KIDS
Our family at Mercy Hill Memphis cares for kids. We want them to know Jesus offers them a never-ending love.
Kids & our Sunday Gathering
Our aim is to make Sunday Gatherings meaningful for everyone. Childcare is offered for kids (birth–second grade).
Our baby room is staffed with loving volunteers who care for kids ages 6 weeks to 2 years old.
Our preschool class is for kids ages 3 years old to 4 years old. The preschoolers will worship and sing with their parents during our Sunday Gathering and are then dismissed to their class before teaching time. During our time together we introduce the kids to Jesus through exciting stories of the Bible, fun games, and creative crafts.
Our elementary worship service is the 1st and 3rd Sundays of each month for students K-5th grade. The kids worship and sing with their parents during our Sunday Gathering and are then dismissed to their class before teaching time. During our time together we study God's word by using the GROWkids curriculum. 
STUDENT MINISTRY
Sundays at 6:30 PM
Grades 6-12
447 N. Evergreen St.
For the Kingdom & the City
Follow Jesus with Family & Friends
Missional Communities (MC's) are diverse families where a smaller group gathers to submit all of life to Jesus. We follow Jesus together, learning to love one another as family, serve the "least of these" in our midst, and be a witness to the good news of Jesus. MC's regularly share a family meal together and interact with one another throughout the week. Each MC seeks to grow in the Love of Jesus, the Family of Jesus and the Mission of Jesus.
JOIN AN MC FAMILY MEAL
Contact one of our MC Leaders to drop in on their next family meal.
Brad & Katie Dunlap
Neighborhood: Vollintine Evergreen – Tues.
Mission: A Way Out Ministries
Matt & Elissa Roberts
Neighborhood:  (East Memphis Area) – Wed.
Mission: TBD
Chris & Jamie Steward
Neighborhood: Cooper-Young Loving – Wed.
Mission: TBD
Matt & Tiffany Nason
Neighborhood: Vollintine Evergreen – Tues.
Mission: Foster Care Community Support
Ben & Jessica Roberts
Neighborhood: Evergreen – Wed.
Mission: Retirement Community Ministry
Get Help Connecting
Not sure which MC to check out?
Got questions about MCs?
Grow in Intimacy with Jesus
Coffee Groups
Our Coffee Groups enable us to care for one another and bring accountability to each other's lives. These groups (three people of the same gender), under the leadership of the Holy Spirit, meet weekly to share what they are learning and how they are growing as followers of Jesus.
How We Grow Together (DNA)
Discover Jesus in the Scriptures
Nurture the truths of the gospel in our hearts
Take Action to obey what Jesus calls us to do
Coffee Groups use the CBR Journal to meet with Jesus daily.
Community Bible Reading (CBR) is the daily practice of reading one Old Testament chapter and one New Testament chapter every day as a community. The Community Bible Reading plan allows participants to read through the New Testament once every year and the Old Testament once every three years.
The CBR Journal provides a helpful framework for us to engage God's word through journaling, praying and conversation in community. CBR Journals are available for purchase on Sunday mornings near the coffee area ($10 each – card, cash or check accepted).
To join a Coffee Group, first visit a Missional Community and ask the leader how you can get involved.
Get Help Connecting
We know it's not easy finding a place to connect.
Large gatherings feel safe, but make it hard to feel "known." Smaller groups like Missional Communities can feel as if you're imposing on a group of close friends (but you're not). Sometimes a personal connection is the best way to figure out your next step.
Contact Brad and Katie for a quick chat. (They're quite friendly people!)